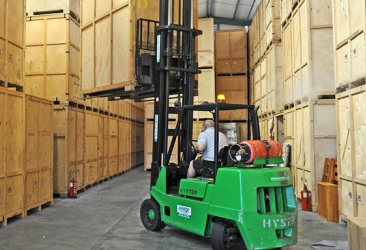 We know how important is to spice up your life with some changes. Breaking monotony is always a good sign of living life. So, if you are bored of living at the same place, you must try to relocate to a new place. However, many people are scared of moving from one place to another because they find shifting a complicated process.
When it comes to the relocation of your warehouse, it can really be your biggest nightmare if not done properly. Everyone has a stored lot of items in the warehouse. Generally, they are stored in the warehouse because you don't have a place to you keep it in your home. Also, there are some important documents which are stored in Warehouse for security purpose.
So, the task of relocation can be a lot of puzzling and perplexing. Moreover, if the relocation is not handled in a proper way, you might bear loss or damage to products. Therefore, in order to avoid these problems, you can hire. You can anytime hire the services of Removalists NSW because our experts handle everything perfectly.
Hiring our warehouse removalists is one of an intelligent decision you take while shifting to a new place. RemovalistsNSW is a leading company who is giving warehouse services to its customers from past many years.
How we are different?
We can make a lot of difference in your life by removing all your stress. We know how tiring and exhausting relocating your office or home can be. So, we offer warehouse relocation services to all our customers. You will not find experienced removalists like us. We are better with manpower and equipment for warehouse removal.
All you need to know about Leading Warehouse Removalists
Our customers have faith and believe in us because we do our work with professionalism. We have a highly trained and expert team who know how to move items without causing damage. we know that when you keep your lovable and valuable belongings with us, it's our duty to take care of it. With us, your belongings are in safe hands.
We have big trucks with us. So, all your loads can be move easily at once. Once your load is safely moved, it becomes our sole responsibility to take care of it. With us, all your precious belongings are kept safe. Once you are done with your shifting process, we can deliver it to you at your doorsteps.
An efficient, cost-effective warehouse removal service
If you relocating your office, we provide you a quick service so that no problem in your business arises. We believe in doing business with transparency so once we go to the price of our services, it will remain the same. We do not charge anything extra for heavy or large. Also, there is no provision of hidden cost. Moreover, we provide insurance in case of damage.
You will thus never find an efficient and cost-effective warehouse removalists anywhere else. We are known as the best removalists Sydney because we have shown trust towards our customers. Our removalist team happily take the task of warehouse removals and keep track of every. Every way, your belongings do not get mix with someone else items.
Contact us anytime to know more about our dismantling and relocating services. We are ready to take the challenge of arranging required warehouse set up for you. Know more about our services on our website. You can also look at our customer review page to know how satisfied our clients are from us.
Dismantling, transporting and relocating your warehouse
If you want to dismantle your warehouse and put it back in the same position to your new place, you are in the right place. Our warehouse removalists in Melbourne are well-trained professionals and they know how to pay attention to your items while transporting and unpacking them. We move your warehouse with ease from one place to another no matter whether it is local or interstate.
We Dispose of Excess or Old Equipment
When we are removing your warehouse, you can tell us to remove any excess or obsolete equipment. We know that there are several things that are stored in your warehouse which you would not like to take to your new premises. We carefully sold and recycle all the items to make sure an environmentally friendly movement for your new warehouse.
If you do not want any tension at the time of relocating to a new place, call us for the best warehouse removal service. by taking our services you will come to know how cheap yet premium our services are.
Reasons for choosing us?
There are several reasons that you must choose us for your warehouse removal. We are capable of dismantling, transporting and then relocating your warehouse items with safety and professionalism. We know that you have stored a lot of heavy material in your warehouse but our experts are prepared to carry everything with care.
Our skilled team includes carpenters, removalists, handymen who are specialized in their own part. They take proper care of all your precious belongings and private documents. We understand that movement of your belongings from one state to another can be threatening for you. But our experts do it with such an ease that you will never feel any shifting happened ever.
Highlights of our services
We have all the equipment required to pack your heavy items quickly. Also, we move your items with caution and rearrange them on your new site.
*We have a team of highly skilled and experienced removalists.
*Our services include packing, storing, transportation, rearranging and much more.
*We offer local and interstate warehouse removal service.
*We are available for your help 24/7.
All the services and benefits we offer make us the most trusted company in Sydney and Melbourne. You must relieve yourself from the stress of warehouse relocation by taking the guidance of warehouse removalists Melbourne. Call us today to avail all the warehouse removal benefits.