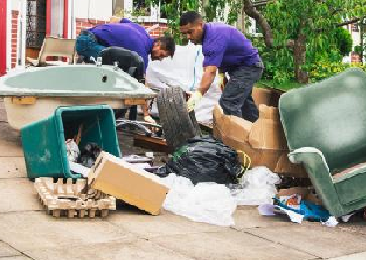 Nobody wishes to ruin the beauty of there home or office. For this, it becomes important for you to remove all the unwanted stuff and rubbish out from your house. However, many people do not get much time to remove rubbish regularly. So, for them hiring our cheap rubbish removalists is the best option.
Nevertheless, many people think that they can remove all the rubbish on their own and no professional help is needed. But there are numerous benefits of hiring a professional company for rubbish removal. Also, many people are not much aware of the benefits of hiring professional removals.
Below stated benefits will help you in knowing how important professional rubbish removal service can be for you.
1. Professionals make your place look clean and healthy
If you are not getting time to dispose of all the rubbish, it will get collected at a place. This will not only give an unpleasant look to your home but can be risky as well. Garbage is the home of bacterias, mosquitoes, and pest which can cause serious health problems. So, taking help from Removalist NSW will be a wise choice.
Our professional helpers will come to your place and collect the mountain of waste so that you can get rid of it. we will provide you simple solutions for keeping your home and office clean. our professionals will make sure that your home is clean, sound and free from waste. Therefore, getting help from our experts will be beneficial in getting rid of unwanted rubbish with ease.
2. Affordable services
The reason why most of the people are not interested in hiring professional services is they found it costly. Many think that rubbish removal is not a task that needed professional hands. But when you hire us, you hire the best rubbish removalists Sydney.
We offer cheap removal services to our clients. Our professional visit at your location, collect all the rubbish and load it in the truck. This will be a hassle-free movement of rubbish from your place.
3. An easy way to get rid of junk
If you are planning to remove all the unwanted junk from your place on your own, you need to work off. It can be inconvenient for you to take a leave just to remove all the junk from your place. So, you can hire Removalists NSW for removing all the unwanted junk and give an aesthetic view to your home.
All you need to do is choose the bin size, select the date of delivery along with your location. You will receive a skip bin from us and you will have seven days time to fill it with the waste. Once it is done we will take it and dispose of it for you. Trust us, removing rubbish from your place was never such simple before.
4. Better for the environment
You call yourself a nature lover. Perhaps, when you look all around, you find a mountain of garbage collected nearby your place. The major benefit of hiring a removalist company is to show some devotion to the betterment of the environment.
you generally don't have access to the place where you can recycle the waste. This can be the reason why the waste keeps on getting collected in one place and give a dirty ambiance. Not only it attracts mosquitoes and bacterias, but it also represents a big disrespect towards the environment. Only a rubbish removal company can help you keep your surroundings clean.
5. Saves time
The major reason why you should hire Removalist NSW is to save your precious time. Indeed, the collection of rubbish at your home or office gives a bad ambiance all around. But as it is a painstaking task, many people ignore it and leave it for later. You need to gather and sort all the rubbish and then take it to the nearest landfill to dispose of it.
However, you can try to use a smarter approach by hiring us and saving your time and efficiency. We will collect, sort and recycle all the garbage for you.
Some of the attractive Services by the rubbish removalists Sydney
We are always there to handle the complete process including the removing of rubbish from your home, office, and factory. We will not charge anything extra for our services. All the cost of rubbish removal will be sent to you beforehand. If you will be agreed with the price offered by us, we will come to your place and remove all the waste instantly.
We have special rubbish clearance bags along with bins that we use to collect all the waste. Once it is done, you can relish a clean and clutter-free place. Not taking our services and collecting rubbish and junk at your home will only create several health problems. So, you can anytime hire us in order to clean your home, garden and other places.
Waste Clearance
if you are looking for professional help to clear all the waste from your office or home, hire Removalists Sydney. We will remove all the unwanted junk from your house efficiently at affordable rates.
House Clearance
If you are looking for hiring a skip so that you can clear all the unwanted junk from your home, call us. We will collect all the waste from your place and make your house look clean and healthy.
Asbestos Removal
We also provide affordable asbestos removal service. We have a highly reliable and talented squad of experts who to help you in all asbestos situations.
Commercial Waste
People generally have a lot of waste collected at their commercial sites. So, if you are looking for rubbish removalists Sydney for your office, store or factory, contact us. We will collect all your waste from your site and around 80% of the waste will be recycled so that your business leaves a carbon-free footprint.